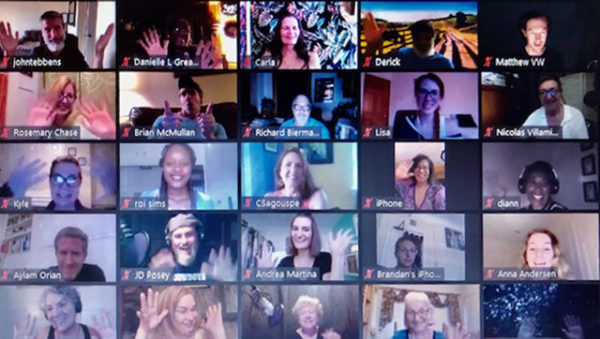 ALL DISCOUNTS NOW THROUGH !
33% off the regular price for audition prep (up to 30 minutes). Pay only $50.
$100 OFF the regular price of a 4-session Private Coaching/Consultation. You pay only $600.
15% OFF the regular price of our 4-week online Group Class. Pay only $245.
10% OFF the regular price of a single Private Coaching/Consultation Session. You pay only $135.
See details below
ANNA GARDUÑO'S CLASSES
Anna teaches Voice Overs as acting, not just being a "voice" –
In this class you will learn to:
RECORD all kinds of copy (Commercial, Animation, Promo, Narration ) and focus on how to make your reads pop so that you book the job.
ORIGINATE personalized techniques for 'putting your signature" on your read, through pacing, script analysis, matching the reads to the brands, and utilizing tone of voice as a storytelling tool,so your auditions stand out and you book more jobs.
INTERPRET and INTEGRATE the often vague and confusing notes you are given by casting people, directors and producers into your reads.
AUTHENTICATE your product when you create characters that are original and singular.
NAVIGATE the market place. A targeted approach: Where you fit in specifically, and from there, expanding your range.
ADVOCATE for yourself, either through online casting, and becoming your own best director, or through representation. How to get an agent, and how to get them working for you.
ACCELERATE the process through pragmatic and inspiring homework that will quickly build skill and confidence.
THRIVE in the competitive VO field by learning what makes a great, ear-catching demo.
Group classes are held once a week for 4 consecutive weeks.
Anna provides all copy for the class and sends you your recordings so you can reference them later.
Group classes are ongoing so you can jump in at anytime as long as there is space available.
All Group classes are held online via ZOOM.
Our 4 week class tuition is $290.00
$125.00 non refundable deposit is required. The balance is due by the first class of your 4 week cycle.
Group class is limited to 10 students.
Group classes are:
:
Weds nights 7 to 9:30 pm
Thurs nights 5 to 7:30 pm
Sat mornings 10:00 am to 12:30 pm
Private Coaching/Consultation Sessions are also available
Our single 1-hour private coaching/consultation session: Tuition is $175.
33% off audition prep (up to 30 minutes) normally $75 now only $50
Receive $100 off by purchasing 4 private sessions in advance. You pay only $600 for all 4 sessions (normally $700).
Private sessions are held once per week.
All sessions are online with either ZOOM or SKYPE.
Payment methods accepted
:
Venmo Anna-Garduno
Paypal Annagarduno@gmail.com (students are responsible for any Paypal fees applied)
Feel free to CONTACT US with any questions or to book a class with us. Thank you!